---
Elevate Your Game-Day Experience
With Exciting Matches And Unrivaled Hospitality



---
Strategically Positioned Near The Airport
For Effortless Journeys, Unmatched Comfort, And Timeless Hospitality



---
Elevate Your Game-Day Experience
من خلال المباريات الشيقة والضيافة التي لا مثيل لها



---
Elevate Your Game-Day Experience
With Exciting Matches And Unrivaled Hospitality



---
Elevate Your Game-Day Experience
With Exciting Matches And Unrivaled Hospitality
---
Strategically Positioned Near The Airport
For Effortless Journeys, Unmatched Comfort, And Timeless Hospitality
Experience November like never before at Riyadh Airport Marriott, where our unique school break offer promises an unforgettable stay for the whole family.
Discover the ultimate school break getaway with our exciting offers. Enjoy a range of fantastic amenities, including:
Supervised kids club
Sports nights
Raffle draws
DJ entertainment.
20% off F&B and spa when booking 2 days or more.

It's the perfect family escape!
Offer is valid from: November 9 – November 26
Experience pure relaxation at the newly reopened AR Spa in Riyadh Airport Marriott. Enjoy an exclusive 20% discount on our services as our dedicated team ensures your comfort and satisfaction. Your path to ultimate rejuvenation begins now!
Get ready to achieve your fitness goals with our Fitness Offer, which includes 3 days per week of diverse sports exercises:
Cardio sessions
Fitness training
CrossFit workouts
Boxing and kickboxing classes
Full access to gym facilities
20% discount on spa treatments and beauty salon services
Experience a seafood feast like no other at Riyadh Airport Marriott's poolside, where our live cooking stations, sushi corner, and international spread will leave you craving for more.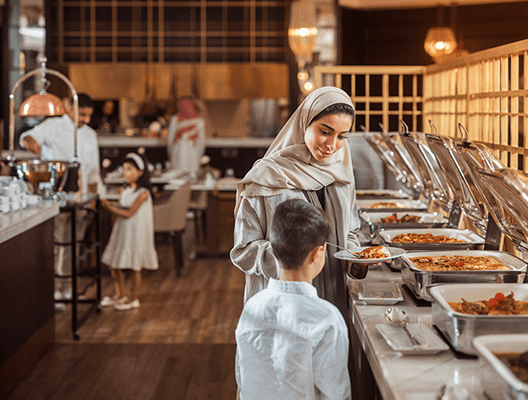 Mediterranean Theme Night
Enjoy an exceptional dinner of Mediterranean cuisine, which includes:
Live cooking stations
Oriental food selections
Selection of international and local dishes
Saturdays are meant for indulgence and quality family time. Delight in a sumptuous brunch spread, where an array of delectable dishes awaits you.
Introducing our sharing package, an exclusive offer designed to enhance your football-watching experience at Riyadh Airport Marriott. As you immerse yourself in the thrill of the games, elevate your enjoyment with our curated packages available for order, like gourmet shawarmas, seafood balls, nachos, and meze platters. Here's to unforgettable football nights at Riyadh Airport Marriott!